Events
Apr 13 Saturday 2019, 21:30
Delasito project
Duende Jazz Bar
The Delasito Project, with the special and atmospheric sound of the vibraphone, has developed a lively repertoire of covers and original creations based on both jazz and funk influences as well as classical music and free improvisation. Delasito Project are: Christos Sitokonstantinou - Vibraphone Andreas Papayannakopoulos - Guitar Panayiotis Charalambopoulos - Bass Alekos Spanidis - Drums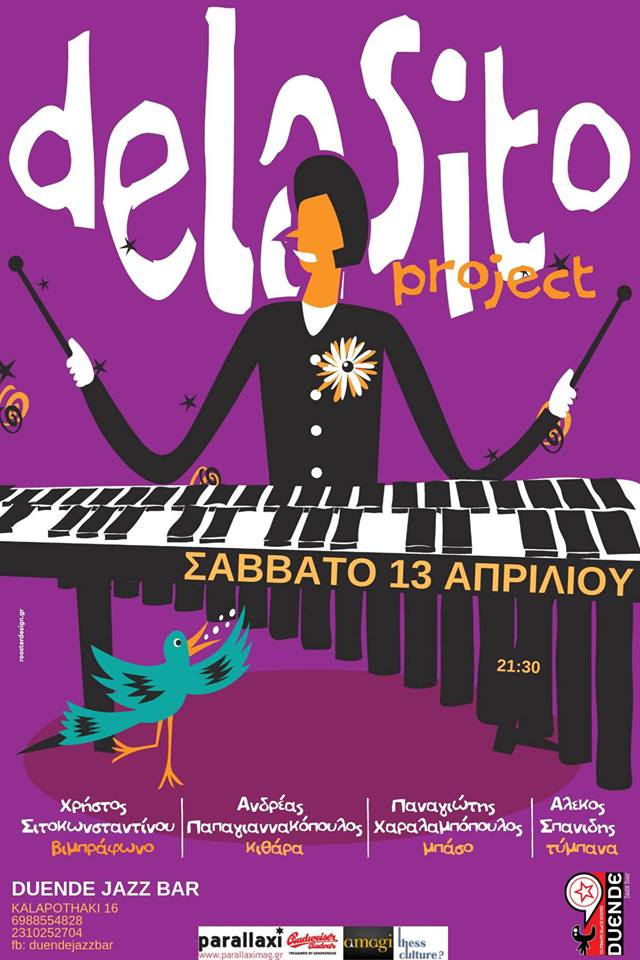 Apr 12 Friday 2019, 22:00
Delasito Project & Cosmos Duo
Cafe Santan
Friday, April 12 and the talented Delasito Project with the Cosmos Duo on Santan's stage! The Delasito Project, with the special and atmospheric sound of the vibraphone, has developed a lively repertoire of covers and original creations based on both jazz and funk influences as well as classical music and free improvisation. Delasito Project are: Christos Sitokonstantinou - Vibraphone Andreas Papayannakopoulos - Guitar Panayiotis Charalambopoulos - Bass Alekos Spanidis - Drums Cosmos Duo opens the night: Favorite tunes that bring us to the world of Cinema. They come alive through music such as 'Breakfast at Tiffany's', 'Amelie', '' It's Brooklyn '', '' La vie en Rose / Mome '', 'Primal Fear' "Angel Eyes", "Sous le ciel de Paris", "A Man and a Woman", "Stars 80", "Never on Sunday" etc. Konstantinos Gravos: trumpet - voice Vassiliki Papakonstantinou: piano - voice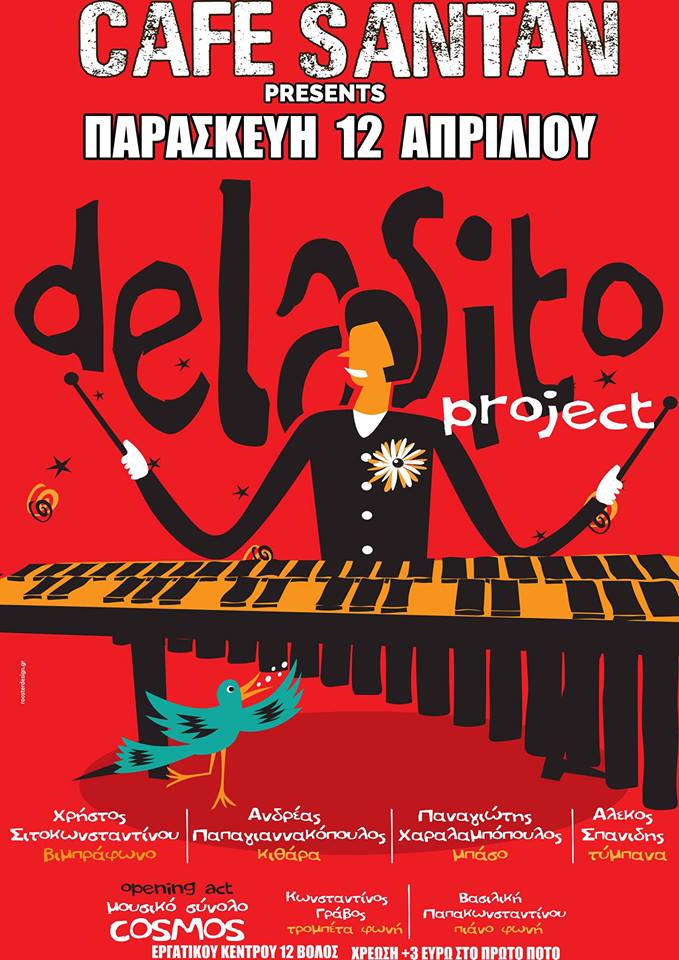 Mar 22 Friday 2019, 21:00
ZK miniFest vol.I
Technopolis stage
The zk recording studio in cooperation with the Technopolis Stage show the zk miniFest vol.I Bands participating : Mr. Pulse, Wet n 'roll, The Lawbrakers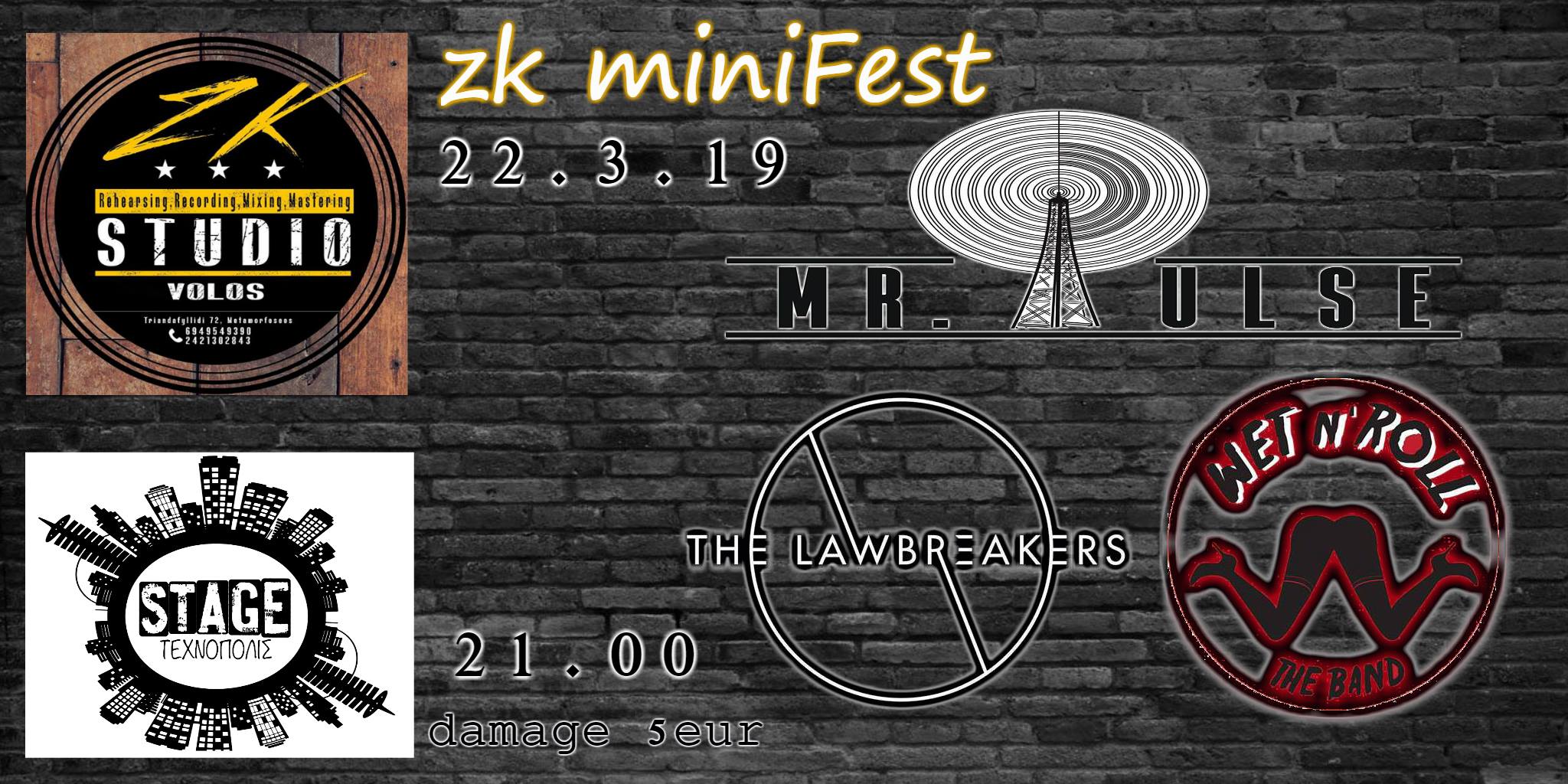 Mar 13 Wednesday 2019, 20:00
Because Life Is Unique
University of Thessaly
Music event organized by Maria Thoidou, head of the Musical Ensembles of the University of Thessaly. The Musical Groups of the University of Thessaly, members of his theatrical group ( Mrs. Maria Karazanou director), as well as the Treescelts Medieval and Anatolika Zitimata will participate. The number of seats is limited. Please, as you state your presence.
Feb 25 Monday 2019, 20:30
Carmen's question
Municipal Theater of Nea Ionia
Concert by the Chamber Orchestra of "Winterswet" music lab with the conductor Anastasios Strikos. Free entrance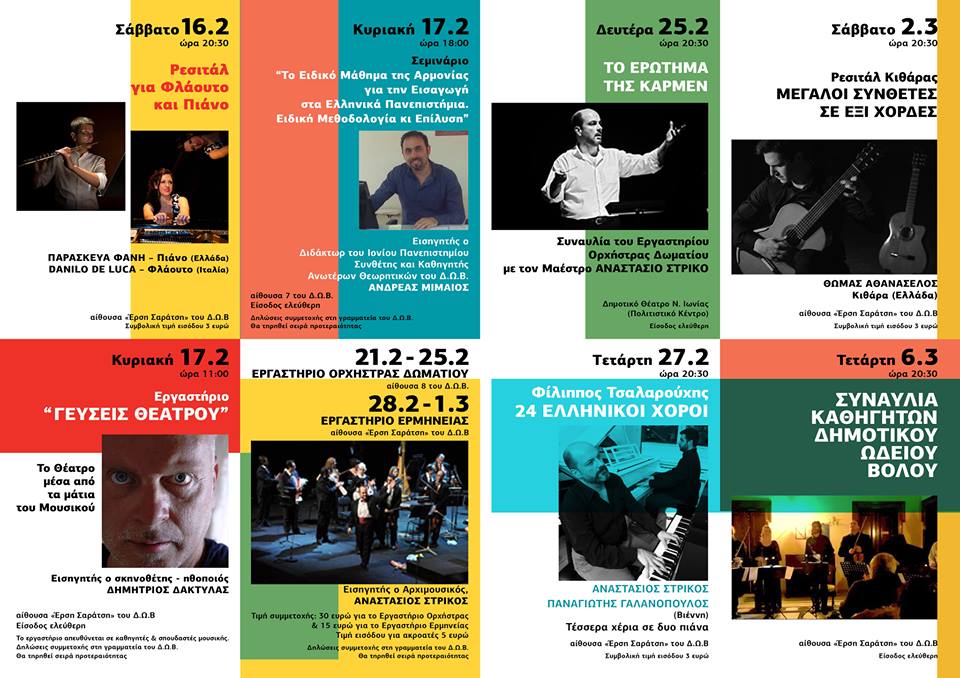 Feb 24 Sunday 2019, 22:00
Band Fatale
Cafe Santan
Sunday, February 24, and the Band Fatale is on stage at Cafe Santan! Members Makis Sypsas: percussion, vocals, dancing Yannis Tsoukas: baglamas, voice Yannis Baltis: bass Nikos Sitokonstantinou: oboe, saxophone Christos Sitokonstantinou: drums Dimitris Markidis: electric guitar Vangelis Fotiadis: guitar, voice
Feb 01 Friday 2019, 22:00
Anatolika zitimata mini trio
4 Epohes
Anatolika zitimata in progress mini trio
Zisis Georgalios kanoon
Konstantinos Meges bass
Christos Sitokonstantinou percussion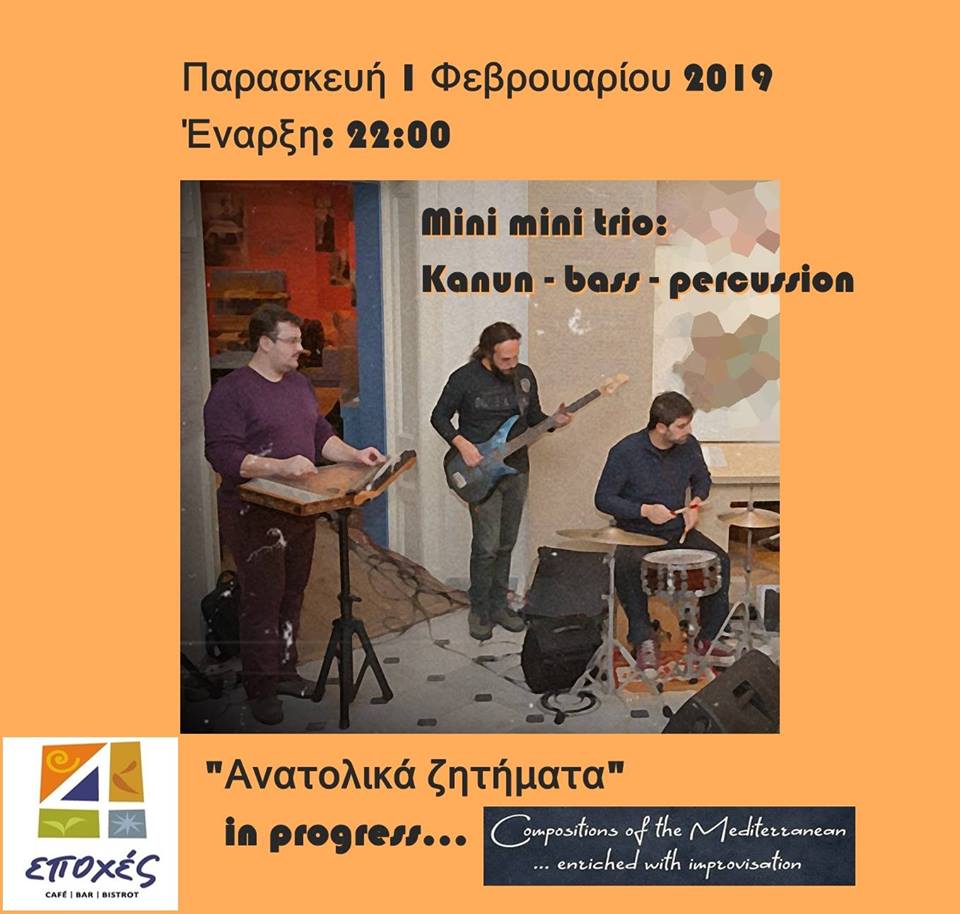 Jan 04 Friday 2019, 22:00
Mr.Pulse & The Lawbreakers
Cafe Santan
We welcome Mr Pulse and The LawBreakers!
Mr.Pulse is a Power Rock trio created in May 2014. Their style ranges on southern rock paths with several blues platitudes. In 2016 they released their first work entitled "Damage Control", an EP with three original pieces which received very good reviews from musical magazines, printed and online. They have participated in several festivals so far and are currently in the studio to produce their first full length album that will be released in 2019. On Friday 04/01 they will take a break from the studio and will be on stage at Café Santan for to present pieces of their new work.

In the evening, our LawBreakers open up to Heavy Rock, Psychedelic Blues with lots of desert and groove elements. In September 2018, they released their first LP, WANTED, through which they attempted to express some of their concerns and opinions.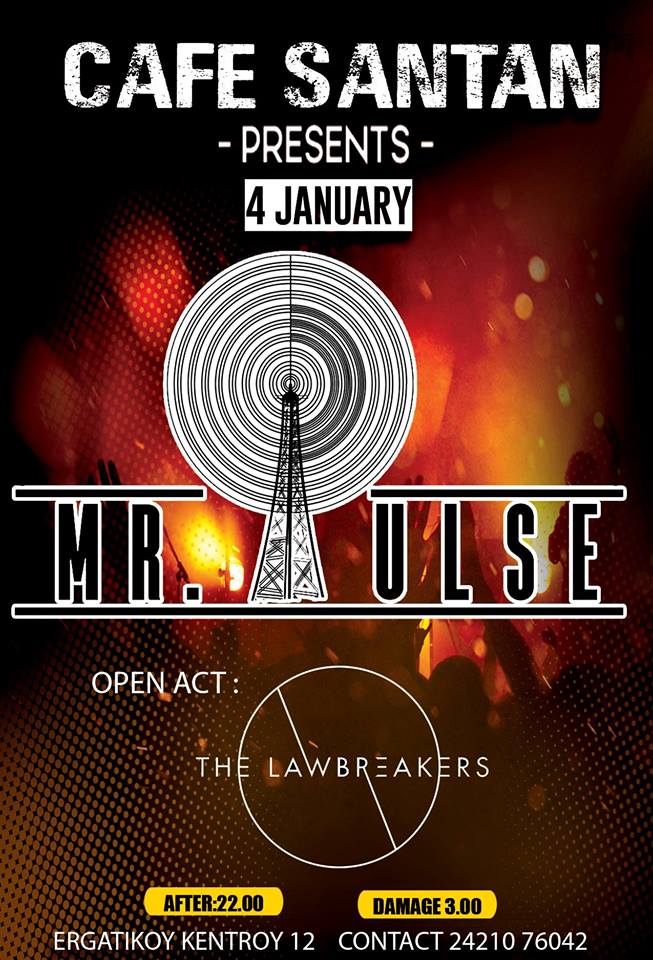 Dec 23 Sunday 2018, 22:30
Anatolika zitimata in progress
Perispomeni
Compositions of the Mediterranean, enriched with improvisation ...


Oud, vocals - Giorgos Spanodimos

Kanoun - Zisis Georgalios

Cello - Vassilis LemoniaS

Percussion - Christos Sitokonstantinou
Bass - Kontantinos Megies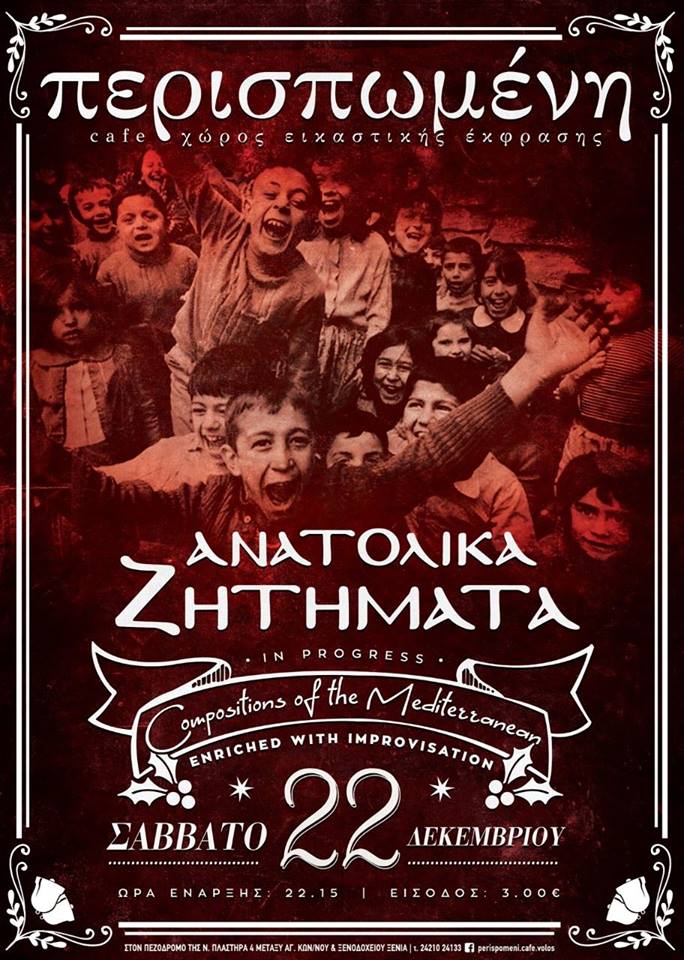 Dec 14 Friday 2018, 22:30
Anatolika zitimata in progress
La petite Cantine project
Compositions of the Mediterranean, enriched with improvisation ...


Oud, vocals - Giorgos Spanodimos

Kanoun - Zisis Georgalios

Cello - Vassilis LemoniaS

Percussion - Christos Sitokonstantinou
Bass - Kontantinos Megies