Events
Nov 25 Sunday 2018, 22:30
LIVE Sundays: Delasito Project
Afrikana
The Delasito project is an ambitious effort-vehicle for the artistic expression of the percussionist Christos Sitokonstantinou who, with the special and atmospheric sound of the vibraphone, presents a repertoire of coverings and original creations based on influences from the jazz and funk scene and from classical music and free improvisation.


Christos Sitokonstantinou: vibraphone
Andreas Papagiannakopoulos: guitar
Panayiotis Charalambopoulos: bass
Thanos Hadjianagnostou: drums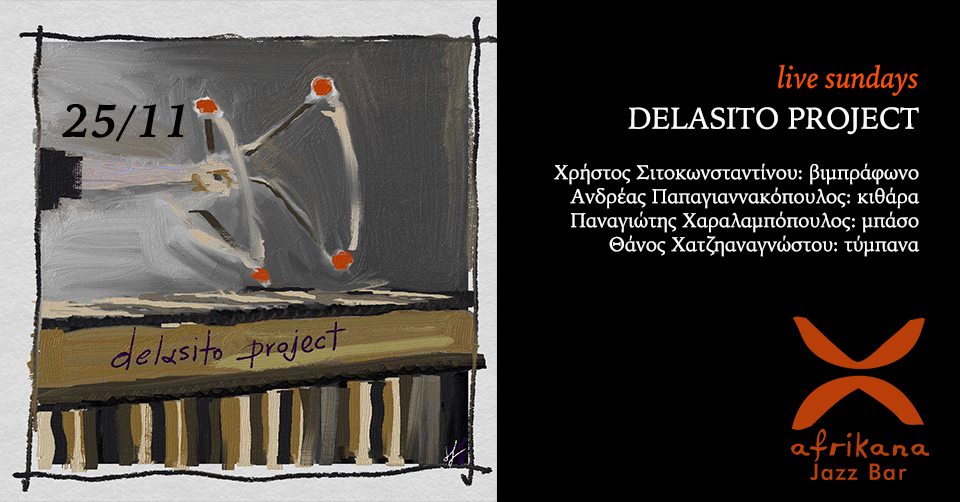 Nov 16 Friday 2018, 19:00
Volos, the formation of the city's physiognomy
Folklife & Ethnological Museum of Macedonia-Thrace
Event of speech and music,
on the occasion of the exhibition:
"Dimitris Letsios | A portrait of Volos".

Speech by Professor Emeritus of AUTh,
Vilma Chastaglou - Martini,
with the title: "Volos, shaping the physiognomy of the city" and

Concert with Αnatolika Zitimata in progress who will interpret urban songs and words from Constantinople, Smyrna and Asia Minor, traditional pieces from all over Greece and contemporary compositions of the Mediterranean masters.
Participants are: George Spanodimos - oud, voice, Zisis Georgalos - canoon, Vassilis Lemonias - cello, Christos Sitokonstantinou - percussion, Konstantinos Meghes - bass.

Co-organized with the Thessaloniki Museum of Photography and Thessaloniki Photobiennale 2018.

Free entrance.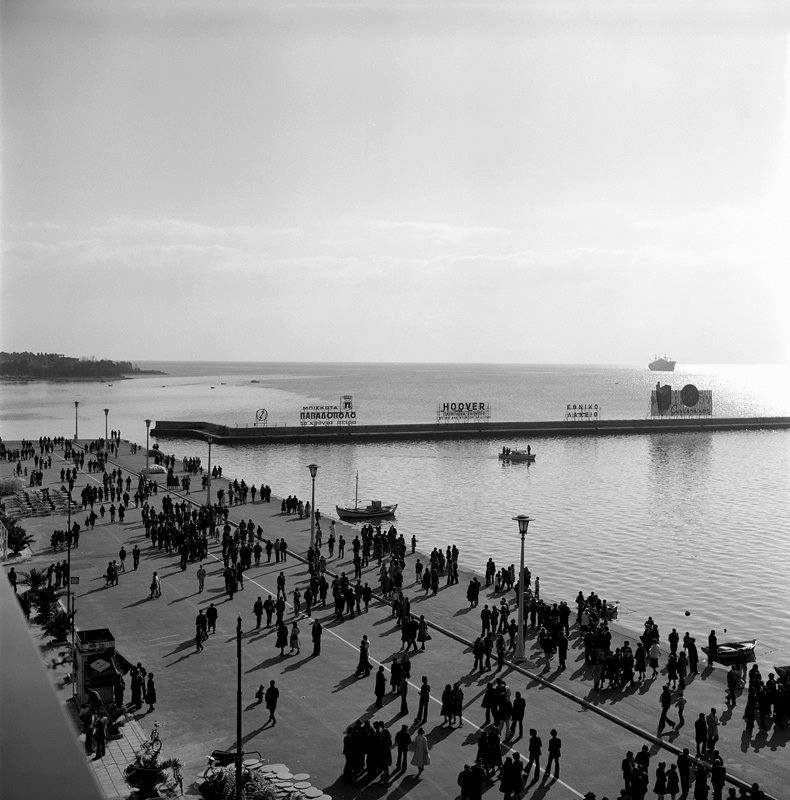 Nov 09 Friday 2018, 22:30
Delasito project & Arlan Oscar TRIO
Cafe Santan
Delasito project is an ambitious effort-vehicle of artistic expression of the percussionist Christos Sitokonstantinou. Consisting of members living and working in Volos, Athens and Thessaloniki and guided by the special and atmospheric sound of vibraphone, he presents a repertoire of coverings and original creations based on influences from the jazz and funk scene as well as from the classical music and free improvisation.


Christos Sitokonstantinou: bipraphone
Andreas Papayannakopoulos: guitar
Panayiotis Charalambopoulos: bass
Alexandros Spanides: drums

"Arlan Oscar's Trio" will take place on November 9, at 9:00 pm, presenting new and original music, as well as fresh interpretations of popular songs by Jimi Hendrix, Stevie Wonder, Marvin Gaye, Aretha Franklin, Otis Redding, Bill Withers and many other well-known artists.

"Trio" consists of:
Arlan Oscar on the keys: Hammond, Rhodes, and MiniMoog
Philippe Retsios: electric bass
Dimitris Gavardinas: Drums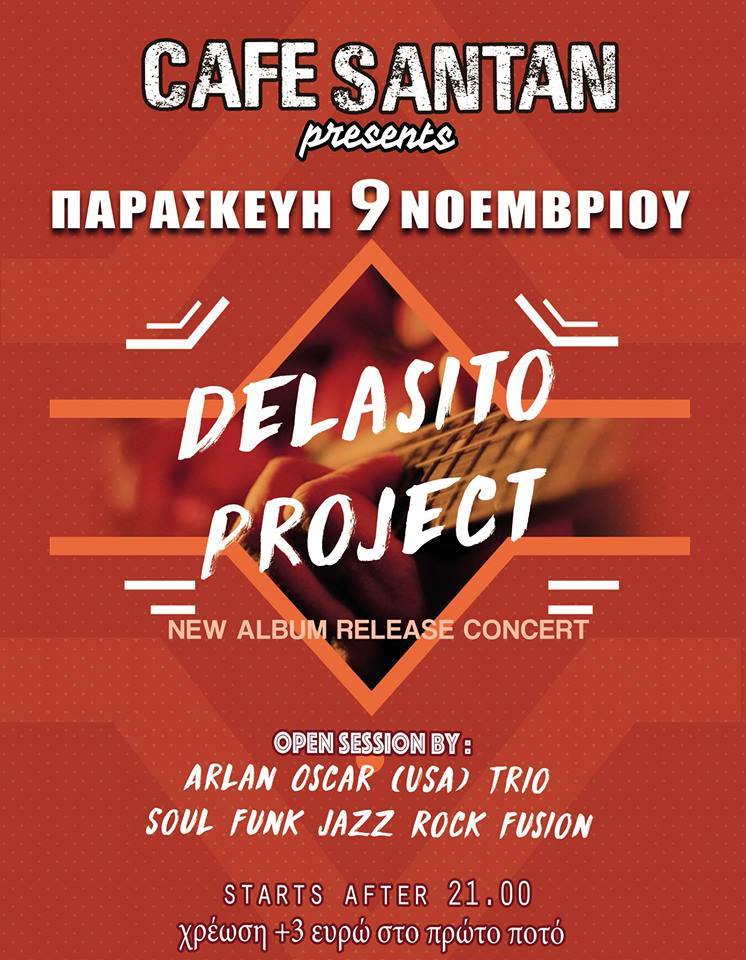 Oct 26 Friday 2018, 21:00
Anatolika zitimata & Elena Vasileiadi
Alatostrata
MEDITERRANEO
From the East of the East ... in the living room of Manos Hadjidakis ...

Eastern Issues & Elena Vassiliadi

Musicians
Zisis Georgalos-cannon
George Spanodimos-oud
Vassilis Lemonias-cello
Konstantinos Megès-bass
Christos Sitokonstantinou percussion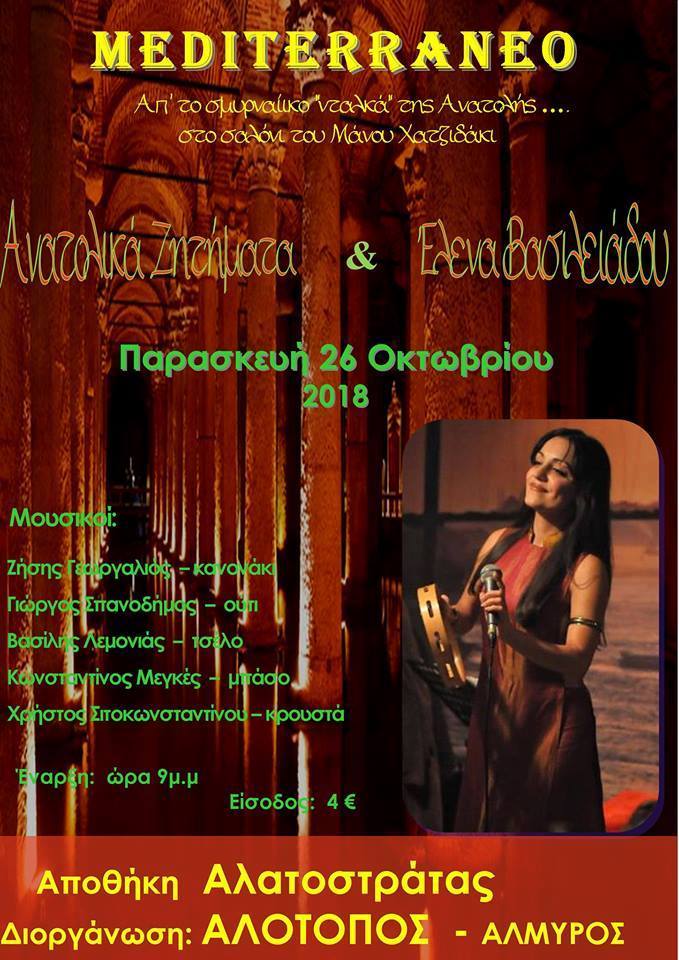 Oct 19 Friday 2018, 22:00
Mr.Pulse
Argoriders Mcc Volos Clubhouse
ONE NIGHT STAND Productions proudly presents:
Mr.Pulse live !!!
Friday 19/10
Location: Argoriders Mcc Volos Clubhouse
Pass: Free
GATE OPEN: 22:00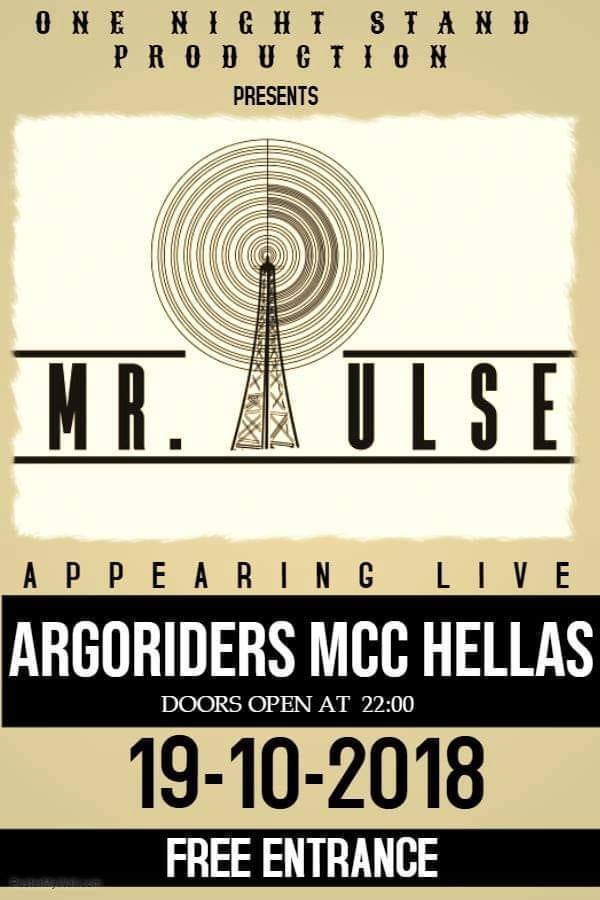 Oct 06 Saturday 2018, 21:00
9th Panthessalic Ecofestival
St Konstantinos Park - Volos
More than 80 producers, craftsmen and collectives, faithful to our rendezvous and this year, not only from Thessaly but from all over Greece, we meet again in the park of Ag. Konstantinos in Volos for the established celebration of ecological agriculture and craftsmanship. This year, the 9th Pan-Sessions Festival of Ecological Agriculture and Handicrafts will be held from Friday 5th to Sunday 7th October.
The Eco-star is organized and operated by the participants themselves. It proposes self-organization and direct democracy. Cultivation without chemical fertilizers and pesticides. Housing and processing by traditional methods. The creation of handmade constructions and handicrafts. The traditional uses of herbs with healing and cosmetic action. Collective ventures and collaborations in response to paid employment. In the current economic and ecological crisis we propose a total overcoming of the conditions and causes that created it, a review of how the economy works and the relationship between nature and human society.
The celebration will start from Friday morning 5th October with visits by schoolchildren and children's events in collaboration with the Pedagogical Department of the University of Thessaly. In the afternoon of the same day, the Caracatu percussion team will end up in the Ecorinth area from Ag. Nicholas. There will be a performance by the theater group of the Neighborhood Assembly of Ag. Nektarios, presenting P. Matesi's work "Minority Law". Next, the Bananaland documentary on the mass production of bananas will be shown. The program of the first day will be musically closed with dj Regular in the Echorti decks.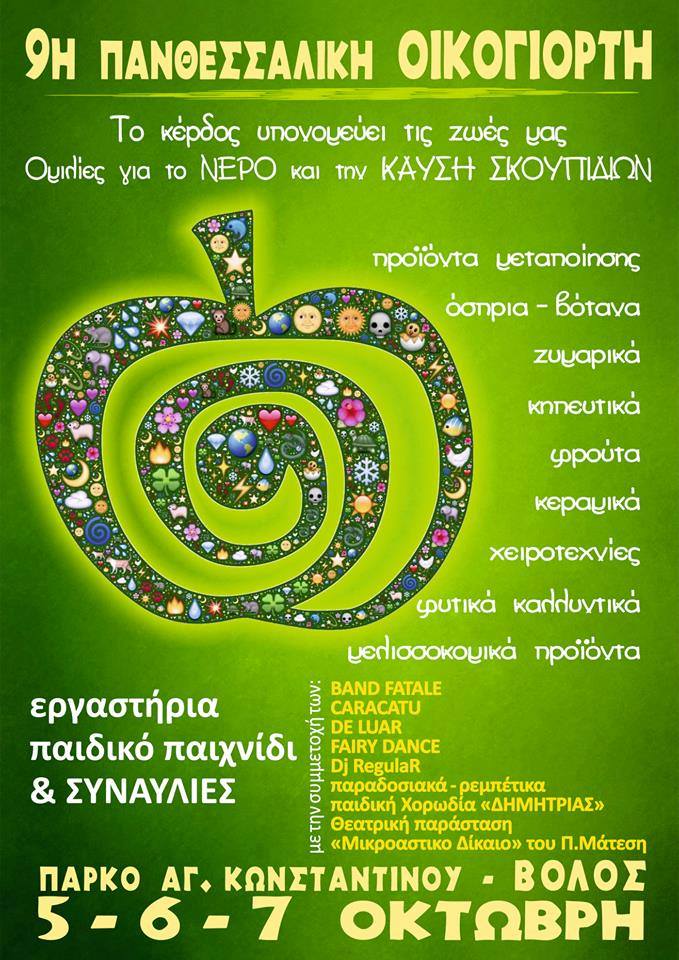 Oct 04 Thursday 2018, 21:30
Body percussion
Avlaia dance school
On Thursday, October 4, at 21:30, come and try the first Body Percusssion lesson at our school!
The courses are not only for dancers and musicians, but also for anyone who wants to be initiated into the magic world of rhythm, combining dance and body sounds.
Christos Sitokonstantinou teaches.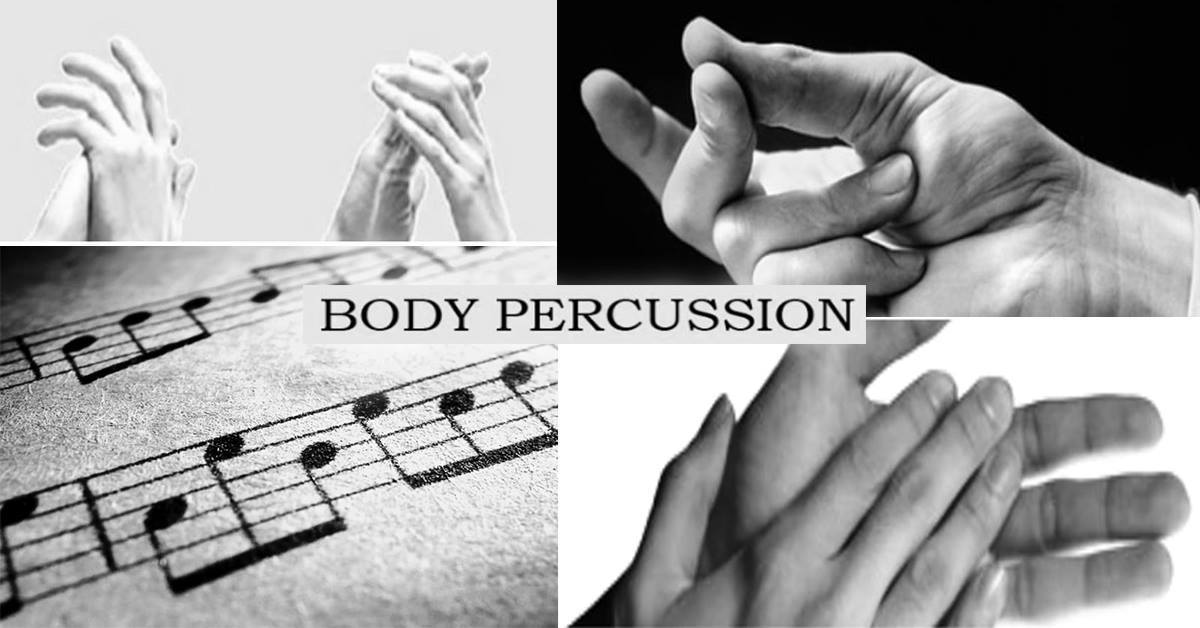 Sep 28 Friday 2018, 21:00
2nd Pan-Hellenic Practice Exercise Network Conference
University of Thessaly
The music band Anatolika zitimata in progress will play at the opening ceremony of the Congress.
George Spanodimos - oud, voice, Zisis Georgalos - canoon, Vassilis Lemonias - cello, Christos Sitokonstantinou - percussion, Konstantinos Meghes - bass.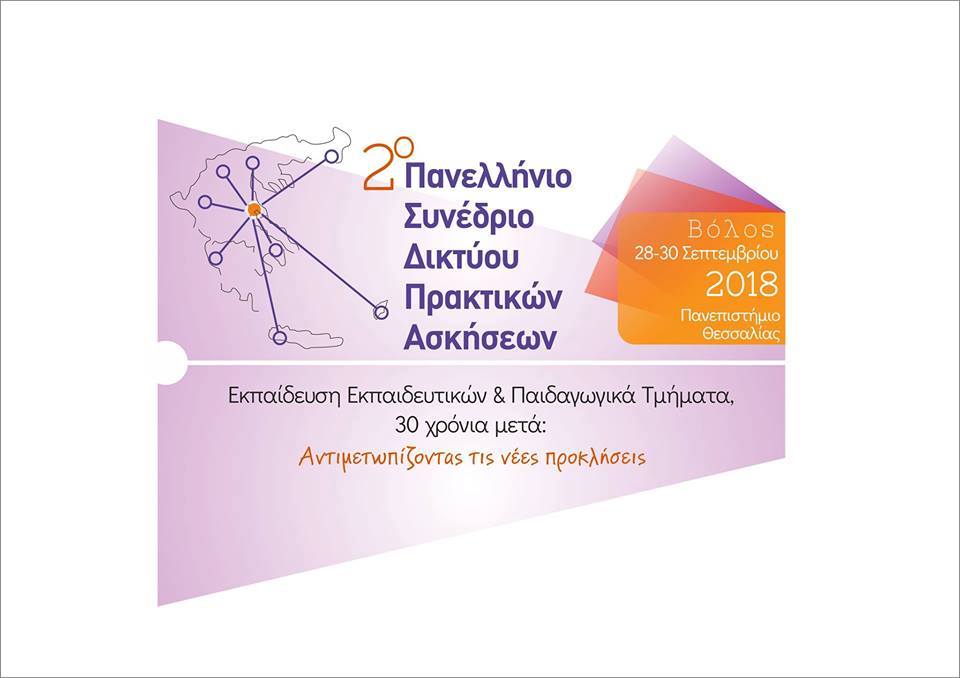 Sep 21 Friday 2018, 21:30
Guillaume Metenier Quartet
Duende Jazz Bar
Nothing but the funk!
This Friday, September 21, we welcome for the first time on the stage of Duende Jazz Bar and Thessaloniki, the musician, composer, and producer from France and Paris, Guillaume Metenier (Hammond Organ), who will present pieces both from his personal discography and his great influences (Dr. Lonnie Smith, Lou Donaldson, Jimmy Smith, etc.), assisted by Babis Prodromidis (tenor sax), Kostas Zambia Antonopoulos (guitar) and Christos Sikonstantinou (drums) .
Guillame Metenier is the founder of French Gee Recordings specializing in soul, jazz, funk and reggae marriage, with fresh sound and presentation, while his personal expression vehicle, SOUL SUGAR, brings the 70s' favorite jazz funk sound to today!
On this Friday, September the 21st, Duende Jazz Bar proudly presents one of France's most respected and sought after Hammond player, composer and producer, Guillaume "Gee" Metenier!
The Hammond Organ has provided the backbone of much popular music since it's invention 75 years ago. From gospel, blues, jazz, soul, funk, rock and reggae. The unmistakable, gritty sound of this groovy septuagenarian has been loved (and lets be honest, sometimes hated) by successive generations. It might even be suggested that the Hammond sound has nothing new to offer in the 21st century, after so many decades as the workhorse of black music that is until the man behind Soul Sugar, Guillaume Metenier put together this new collection for Freestyle Records.
Guillaume is a highly respected Parisian keyboard player, whose previous credits include The Last Poets, Emilie Simon, as well as being a long time collaborator of production maestro and trip hop hero Kid Loco. Indeed, Kid Loco has worked with Guillaume on 'Nothing But The Truth' to produce the perfect mix of vintage sounds and styles, but with a contemporary edge.
Gee Recordings was founded by Guillaume "Gee" Metenier, mixing psychedelic soul jazz funk and early reggae, he collaborates with a star cast of musician from Paris and all over the world.
Guillaume will interact with Babis Prodromidis on tenor Sax, Kostas "Zambia" Antonopoulos on guitar, and Christos Sitokonstantinou on drums in a set full of Guillaume's originals and jazz-funk from his main influences, like Dr Lonnie Smith, Lou Donaldson, Jimmy Smith etc.
Guillaume Metenier Quartet
Guillame Metenier - Hammond Organ
Babis Prodromidis - Tenor Sax
Kostas Antonopoulos - Guitar
Christos Sitokontstantinou - Drums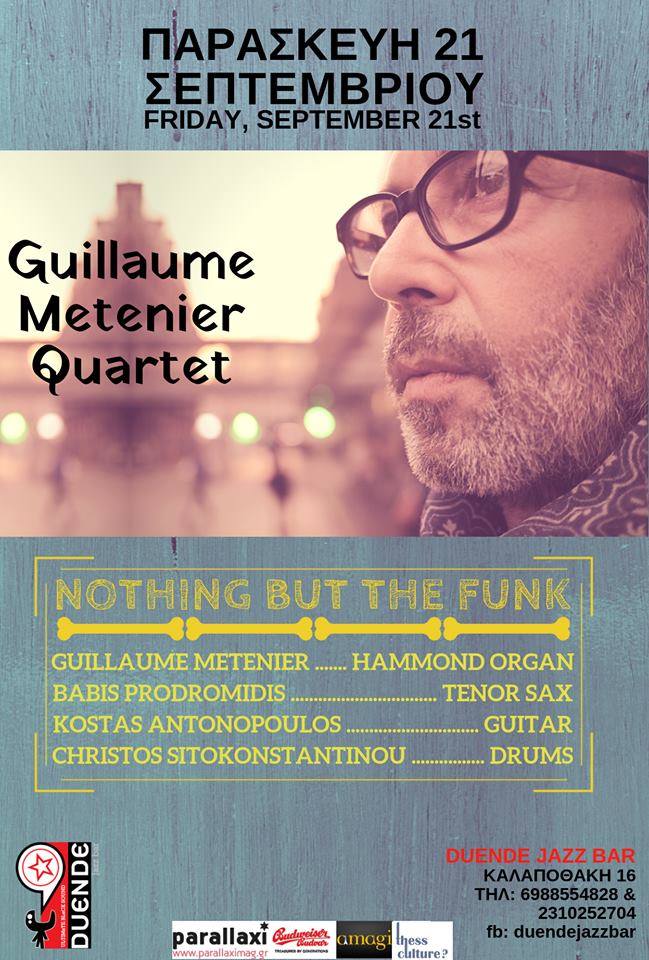 Sep 16 Sunday 2018, 21:15
Axion Esti
Volos Summer Municipal Theater "Melina Merkouri"
It is with great pleasure and emotion that the Directorate of Culture of DOEAP - DI.PE.THE. Volos Municipality, honoring one of the most important Greek music composers of our time, Mikis Theodorakis, who this year completes his 93 years, invites you to the presentation of his emblematic work "AXION ESTI" in the poetry of poet Nobel Prize winner Odysseas Elytis. A folk oratorio, a monument of contemporary Greek art, through which the composer gives us our rejuvenating reunion with sounds, melodies, emotions, events and visions that are an integral part of the historical and aesthetic identity of our people. The new date for the presentation of "AXION ESTI", which was postponed in July due to the bad weather conditions, is Sunday, September 16th and again at the "MELINA MERKOURI" VOLUNTARY VOLUME THEATER, at 9:15 pm.
At this great concert with the Symphony Orchestra of the Municipal Conservatory of Volos, under the direction of the conductor Joachim Baltsavia, the distinguished singer Dimitris Bassis performs with his sultry, popular voice and his very special performances (popular singer). With him the baritone Iordanis Papazoglou (chant), the actor-director Grigoris Galatis (narrator) and three choirs: "Voliotiki" (Stasa Tzala's teaching), "Mixed Choir of the Municipal Conservatory of Larissa" (Dimitris Karvounis teaching) Musical Cultural Association "Choir of Atalanti" (Teaching by Antigoni Keretzi). The musical supervision of the concert has been undertaken by the artistic director of Volos Municipal Conservatory Andreas Mimaios.
Symphony Orchestra of the Municipal Conservatory of Volos
FLUTE Peter Papas, Helen Tsiouvaka / OBOE Dimitris Hatzoulis / CLARINET Stelios Kotrotsios, Michael Sambanis / BASSOON Evi Karamanoli / HORN Nelly Choleva Maria Gurkan / TRUMPET Constantine tie Claus Stoikos / TROMBONE Maria Panagopoulos, Claus Tasoudis George Agelakis / TUBA Claus Mantoudis / CRUSTA Nikos Chronopoulos, Vangelis Bakalis, Christos Sitokonstantinou, Georgia Tsoutsoura, Giorgos Kerasiotis / PIANO Nektaria Papadimitriou / KITHARA Argyris Batschinis, Maria Zoumbeki / SANTOURI Yiannis Gravardas / MANDOLIN Anestis flower, Paris Thoedorakakis / BOUZOUKI Giannis Politis, Dimitrios Troumpouzas / electric bass George Charitos / VIOLI I St. matrix Amarillo Lialiou, Myrto Geka, Manto Anastasiou Efthymia raucous, Emmanuel Meletiadis, Theophano Batskini, Mario Agelis Marilena Kazaki / VIOLI II Angela Batista, Asimina Chatziangelaki, Giannis Vatsis, Ioanna Apostolaki, Katerina Zouzoula, Chrysanthi Papapetrou / VIOLA George Skiba, Vaso Alexiou, Panagiota Mavrogiannea, Rania Bali / Violoncello Themis Vagenas, Zafiroula Hanti, Petros Kannada, Aristides Nizami / bass Karamaniolas John, Philip Rentzios, Effie Sakellari